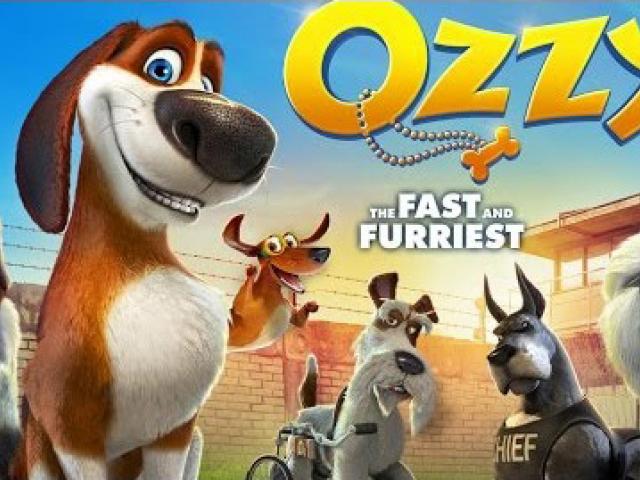 Ozzy, a friendly, peaceful beagle has his idyllic life turned upside down when the Martins leave on a long and distant trip. There's only one problem: no dogs allowed!  Unable to bring their beloved Ozzy along for the ride, they settle on the next best thing, a top-of-the-line canine spa called Blue Creek. This picture perfect place turns out to be a facade constructed by its villainous owner to capture dogs. Ozzy will soon end up in the real Blue Creek, a prison for dogs, run by dogs. Ozzy will have to avoid danger and find strength in his new friends, Chester, Fronky and Doc to escape the prison and return home safely. The narrative of 'OZZY' aims to follow in the footsteps of movies which employs Pixar-like quality and fun. 'OZZY' is an animated comedy-adventure movie targeted for kids of all ages and represents family entertainment at its best. The story itself is based, almost entirely, around dogs. 'OZZY' falls into the "prison movie" genre with funny tributes to the great prison classics. It's a story about friendship, loyalty, courage and the ability to find the best in ourselves when facing a tough situation
Featuring the voices of Jacob Tremblay ("Room"), Jeff Foxworthy and Will Sasso, the film launches Tangent's animated feature film division. 
"Ozzy" premieres across the country on Friday, April 21, 2017.  
-          Toronto – Carlton Cinemas
-          Winnipeg – Landmark Towne
-          Ottawa – Landmark Kanata
-          Edmonton – Cinema City Movies 12
The Tangent Team:
KEN ZORNIAK, CEO, President and Producer
Ken Zorniak specializes in strategic management of large creative operations. He creates innovative solutions to management and production challenges including developing proprietary technology to deliver high level customer service. As co-founder of Frantic Films and Executive Producer of the visual effects division, Ken worked on a number of Hollywood Studio feature film projects. Prior to selling the visual effects and software divisions to Prime Focus, Frantic Films was one of the leading innovators in Canada for photo realistic visual effects.
JEFF BELL, COO, Producer, and Visual and Computer Graphics Supervisor
Jeff Bell combines expertise in both Art and Computer Science to enable creative and clever solutions to challenging production problems. Recent credits include feature films such as Tim Burton's "9", and IDT Entertainment's Everyone's Hero as Visual FX Supervisor and CG Supervisor, and Producer of Emma's Wings – A Bella Sara Tale. His co-development and management of proprietary Project and Asset tracking systems have enabled the production of four feature films and numerous episodic and direct to DVD programs.
PHYLLIS LAING, Senior VP and Executive Producer
Phyllis Laing established Buffalo Gal Pictures in 1994. Recent feature film credits include the Canada/Spain co-production Cry/Fly currently in post-production; All the Wrong Reasons (2013), co-produced with Shore Road Pictures in Halifax; the Canada/Norway feature film, Mad Ship (2012); and Guy Maddin's award-nominated Keyhole (2011). Phyllis also executive produced the celebrated Canadian TV series Less Than Kind for HBO Canada.